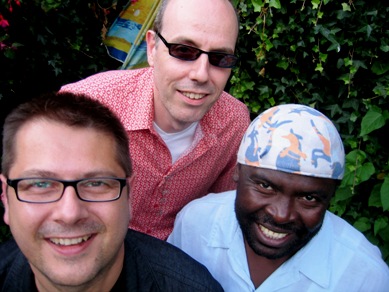 Yam Yam is Rick Turner and Guy Morley. Guy headed up the Big Chill music programme over the last three years and programmes the Brighton Festival. He is currently producing 4 albums in a studio in Nairobi called Ketebul. He produces tours like African Soul Rebels and DJ'ed, recently as a regular with Carsten Höller's Double Club; the unique 50/50 Congolese night club fusion art installation.
Rick produced, managed and engineered many Manchester bands from Suns of Arqa to Prince Tommy Adweso. He now runs a software company called Empiricom and is setting up a social networking site called Picnic Village with Pete Lawrence (Big Chill founder) He splits his time between Manchester and Vienna.
They initially formed a band called USR, the house band for a Manchester club night called Gondwana. That night evolved into 1 Tree Island – a core part of the 90s Manchester party scene an perhaps the city's longest running night and included DJs like Mr Scruff and Guy as residents. It was always very global and African focused and full of the bohemian misfits of Manchester.
USR split and Rick and Guy formed Yam Yam – Initially signed to Nation Records – Yam Yam had a dance hit with the track – The Spectacle which later got a huge sync for US telecom giant Worldcom. Yam Yam later went onto release music for a label called Codek, based in New York. 2008 saw the release of their first full album called EatDubAfroBeat on the Big Chill label – It was really a retrospective of nearly 10 years out-put.
Guy comments on their new direction: – 'Over the last two years we have concentrated on this new album – we have always had a love on 1970s and 80s Congolese and East African Rumba and wanted to make this a key part of our sound. We have worked with three musicians from Congo and Tanzania to produce this – the songs have a feel for the 'Belle Epoch' – the period when Congolese music became the main force across the continent – That said we have put a very modern take on it all.'
Yam Yam performs live as a 6-piece band – most recently on the main stage at the Big Chill. Laptop and electronics (Guy), guitars (Rick), guitars (Fiston Lusambo), percussion and vocals (Saidi Kanda) – MCs and dancers (Kongo Banda and Papa Pawl).