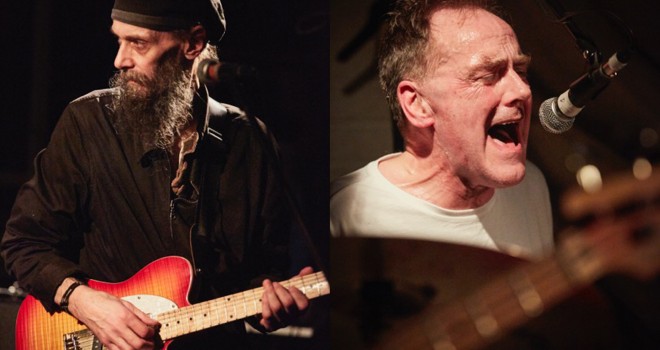 Friday 17 June 2016 Barbican Centre, London
On the 13 February 1976, experimental rock band This Heat played its first show. Now, 40 years later, founding members Charles Bullen and Charles Hayward reunite, joined by a host of special guests, to perform new interpretations of their music.
Arguably the most influential and inventive bands to emerge from the UK's fruitful DIY scene in the 70s, This Heat's career may have been short-lived, but its legacy continues to grow in stature and relevance. Still sounding as wild and original as when it was written, their music has as much in common with modern composers like John Cage as their art-rock contemporaries Gang of Four and The Pop Group. After two albums, a BBC Radio 1 John Peel session, a cassette tape collaboration and an EP, This Heat disbanded in 1982, leaving an indelible legacy.
The influential record label Light in the Attic have just re-pressed all the original This Heat vinyl recordings and in February 2016 Charles Bullen and Charles Hayward reunited for their first public performances of this project, performing This Heat music during two acclaimed sold-out shows at London's Café Oto under the name This Is Not This Heat. The next performance will be at the Barbican Concert Hall on 17th June 2016.
Matching jagged post-punk guitar sounds with hard rhythms, dub production techniques and tape loops, here the band's twisting, freeform songs are fully realised live, with guests including Alexis Taylor (Hot Chip), James Sedwards and Thurston Moore adding new textures to their expansive sound.
Alongside producer I-D.A Projects No-Nation is looking for significant festival partners and other events to stage future performances or this truly original, exciting and adaptable event.
"this doesn't feel like nostalgia, but a new beginning"  Guardian
Performers in This Is Not This Heat have/will include:
Charles Hayward            Alex Ward
Charles Bullen                 Thurston Moore
Alexis Taylor                    D.W Robertson
Chris Cutler                     Serafina Steer
Oren Marshall                Jenny Moore
John Edwards                Sarah Anderson
David Cunningham      Luisa Gerstein
Daniel O'Sullivan          Laura Groves
James Sedwards             Frank Byng
Further performers to be added to the ensemble in due course
Produced by I-D.A Projects and No-Nation