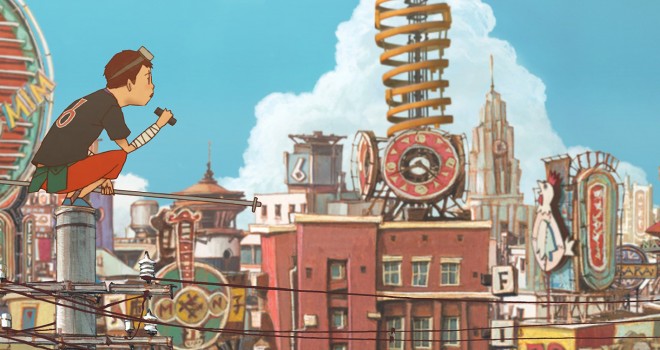 Visually stunning anime film with original score by Plaid performed live with string quartet and percussion ensemble
Michael Arias's 2006 adaptation of Taiyo Matsumoto's Tekkonkinkreet was released 12 years after the completion of the manga and, while imbued with a great respect for the source material, changes the visual style dramatically.
Arias, in interviews and the anime's audio commentary, credits the Fernando Meirelles film City of God and its scenes filmed in Rio De Janeiro using handheld camcorders with providing much of the visual and stylistic inspiration. Arias's Tekkonkinkreet visually translates Taiyo Matsumoto's complex, black and white, two-dimensional images into an urban-baroque, colour saturated and kinetic film.
Plaid wrote the original film music and has just been commissioned by Graphic Festival, Sydney Australia to perform a live version scored for Plaid, string quartet and percussionists. It will be performed at Sydney Opera House this August. Ed Handley and Andy Turner are Plaid, the acclaimed techno / electronic duo. Signed to Warp records they have been at the centre of the UK electronic scene – often working on special projects from Wayne Macgregor's Random Dance and most recently with the South Bank Gamelan Players.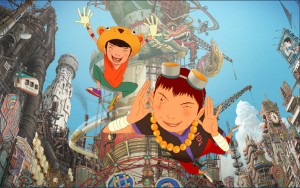 Sydney Opera House 2011, Barbican Centre 2013, available for further performance