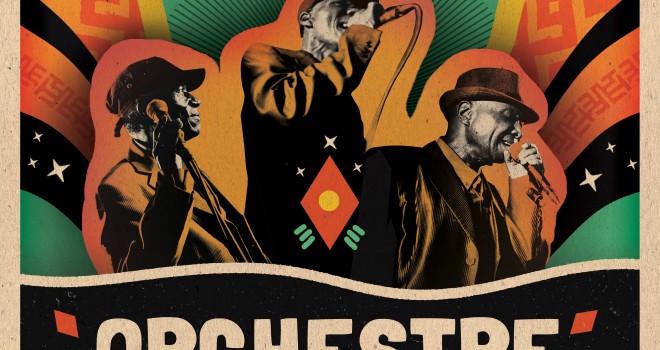 Orchestre Les Mangelepa – The grand masters of East African Dance Music
Originally from the Swahili speaking Eastern Congo Les Mangelepa were formed 40 years ago in Kenya. They have released more than 13 albums and penned some of East Africa's best-loved songs. At their peak they kept fans busy producing hit after hit; from Zambia to Uganda and from Kenya to Tanzania their brilliant arrangements and superbly crafted songs kept East Africa marching to their beat. In the 1970s their stage shows were breath-taking; afro hairdos, jump-suits, bell-bottoms and platform shoes. They looked the part and now in their 70s Mangelepa are the unsung elder statesmen of a classic sound that still shakes the dance-floor.
2017 will see them tour again, Supporting a brand new album on Strut Records called Last Band Standing. The label that brought us Pat Thomas, Peter King and Ebo Taylor now turning attention to the East of the Continent.
Their music is the sublime aural equivalent of a firework display that put them at the centre of the classic East African rumba sound. Roll on 4 decades since their foundation and vinyl diggers the world-over are avidly collecting them. A new generation of international followers are buying up old dusty old 7-inch singles in a trade spread as far as Columbia to Europe and verified by their inclusion on the recent Soundway release Kenya Special 2. These new cohorts often don't know Mangelepa are still as active and as vital as they ever were. They are a remarkable survival story performing every week at Vibro Bar in Nairobi West, where they buck the trend for DJs by playing with up to 12 musicians on stage. They are such mercurial force in Nairobi that the city's residents might be forgiven for accepting them as part of the every-day cultural fabric of the capital and not the unique attraction they are. It is time that their contribution to that spectacular form of music known as East African rumba is acknowledged. That classic sound which was popularised by Les Mangelepa and their peers like Les Wanyika, Shika Shika and Les Marquis, bands who unlike Mangelepa sadly don't exist today.
Mangelepa still have a core of founding members who front the band, alongside acclaimed Congolese musicians based in Nairobi.  But they never wavered from the formula that made them household names in the 70s and the 80s a formula of rumba, catchy vocals, dance-floor orientated rhythm guitar and their trademark marching snare shuffle.
No-Nation's Guy Morley alongside Ketebul Music has produced a brand new album of classic songs in vintage style to be released in May 2017 on the in influential Strut label.
Despite being giants from the heyday of the East African scene they never made it out of the region until 2016 when they toured Europe, brought over by the Planet Rock and the programming visionaries at Afrika Festival in Hertme NL. They are quite literally the Last Band Standing and the only band able to bring us this classic sound. East African music is suddenly back in fashion and Les Mangelepa are hot property.
Video